News
News
At Springmont, we're proud of our school and like share the accomplishments of our students, alumni, faculty and staff. Here you'll find information about Springmont including recent school news, articles about our curriculum and other interesting items. For additional press or media information, please contact Julie Strickland
jstrickland@springmont.com
or 404.252.3910.
Updated Health & Safety Protocols
February 01, 2021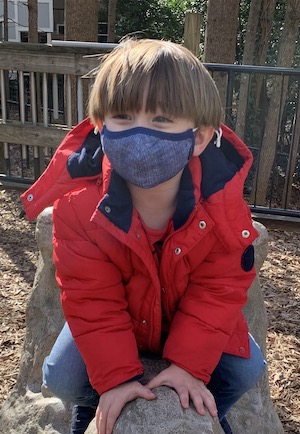 As many of you have likely heard on the news, medical experts are now recommending double masking. While we will not make this a requirement for students at this time, faculty and staff have been encouraged to adopt this added safety measure. If you would like your children to begin double masking, please have them wear a disposable surgical mask UNDER their cloth or other regularly worn masks.
With a shared determination to make in-person learning and the health & safety of our community a top priority, we ask every member of our community to re-evaluate social, athletic, extracurricular, and other non-essential (outside of employment and unavoidable responsibilities/obligations) activities that involve contact with those outside our households. Please remember that when any individual in our community takes a risk, the burden of that risk falls on our entire community. The choices we make each day impact our entire community and the school's ability to continue in-person learning. Click here for a NY Times article placing Fulton County in the extremely high-risk level category and suggesting ideas for protecting yourself and others.
As Spring Break approaches, we have had several families request additional and more specific information about Springmont's current health & safety policies. While no activities are 100% safe during this pandemic, the following are designed to reduce risk and will be added to our Community Agreement and/or COVID Handbook.
All students, families, faculty & staff should avoid being indoors with others outside of their household or class. Sleepovers and other activities involving extended indoor contact are strongly discouraged and should be avoided.
When being indoors with those outside one's household or class is unavoidable, masks that fit properly, covering both nose and mouth tightly and securely, should always be worn AND a distance of at least 6' from others should be maintained at all times, including during extracurriculars/sports practices and matches.
When outdoors with others outside of one's household or class, masks should be worn except when a distance of at least 6' from others can be consistently maintained.
The following are designed to promote safe travel. Actions potentially requiring quarantining or testing before returning to campus include, but are not limited to:
Air travel or receiving visitors who have traveled by air
Public transportation without masking
Eating and drinking indoors while closer than 6' from people outside your household
Staying in hotels or other accommodations that have lobbies/internal hallways/elevators
Gathering with more than 10 people (including your household) including but not limited to amusement parks, concerts, sporting events, reunions, weddings, funerals, etc.
If you have questions about Spring Break or other travel plans, please email feedback@springmont.com.
With worries of variants spreading and the rollout of the vaccine still in progress, we thank every member of our school community for their robust accountability, consistent compliance, and continued cooperation and vigilance.