News
News
At Springmont, we're proud of our school and like share the accomplishments of our students, alumni, faculty and staff. Here you'll find information about Springmont including recent school news, articles about our curriculum and other interesting items. For additional press or media information, please contact Julie Strickland
jstrickland@springmont.com
or 404.252.3910.
Why K-8?
January 21, 2020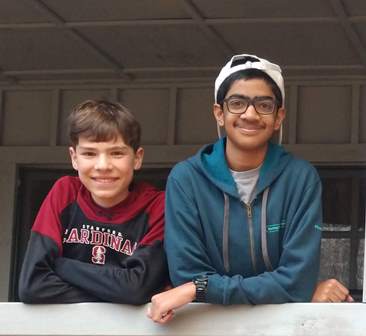 While some schools boast of serving students pre-school through high school, Springmont is very proud of our Toddler through 8th-grade model – and for good reason! Students in a PreK-8 environment not only benefit in the present but are also well-positioned for the future. As the pinnacle of the Springmont experience, our Middle School offers students leadership opportunities often reserved for high schoolers in a K-12 setting - internships, student-led family conferences, and managing a class business and its finances are all part of Springmont's 7th and 8th- year experience. Flexing one's leadership muscles during these middle school years is important as personal identity is being formed. Springmont graduates take these experiences to their high schools and build upon them by starting clubs, introducing programs and following passions that are often rooted in their Middle School experiences.
Springmont graduates don't just arrive in high school – they thrive! Brain research shows us that the early adolescent years are a time of great brain growth, including the development of a new ability called metacognition – the awareness of one's own thought process. Metacognition is deliberately strengthened in Springmont's Middle School program via curricular and co-curricular experiences that bring an increased cognizance of oneself. Students are led to ask themselves, How do I learn? What am I good at? Where do I need to put forth more effort? A high school student who has sought answers to questions like these is well-positioned to take full advantage of everything high school has to offer.
Finally, and perhaps most importantly, a PreK-8 school like Springmont affords students the benefits of a small environment with the appropriate – and necessary – safety nets needed during the often-turbulent middle school years. Too often in a K-12 model, the social demands of high school trickle down to the middle school level, and students are engulfed in drama for which they are unprepared. By offering a low teacher-student ratio and close, long-term relationships with caring adults who truly understand and appreciate the young adolescent, Springmont offers students a superior level of academic, social and emotional support, both in times of triumph and challenge.
If you'd like to see for yourself, email me! I'd be happy to schedule a time for us to observe.