News
News
At Springmont, we're proud of our school and like share the accomplishments of our students, alumni, faculty and staff. Here you'll find information about Springmont including recent school news, articles about our curriculum and other interesting items. For additional press or media information, please contact Julie Strickland
jstrickland@springmont.com
or 404.252.3910.
Way to Go, Running Club!
November 08, 2021
By Julie Strickland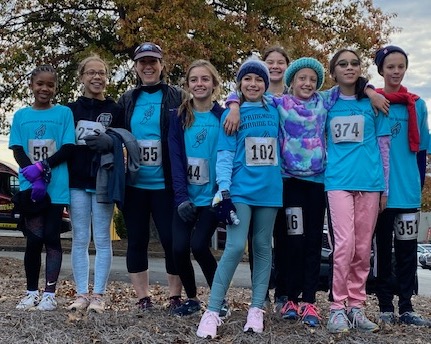 Eleven Springmont students, Running Club Coach Andrea Restifo, and PE Teacher Tiffany Orem participated in this past Saturday's 38th Chattahoochee 5K Road Race in Sandy Springs! Despite the chilly weather, all runners did well, with Gabriel Steagall placing 1st in his age group, Alexa Campos placing 2nd in her age group, and Summer Corvin placing 3rd in hers. Fall Running Club concludes next week but will resume for Upper Elementary & Middle School students in January. Look for registration info soon!
Follow Us on Facebook!
---
Springmont School.
2 days ago
Today Middle School students took advantage of the beautiful weather during their Outdoor Education class to show our barnyard some love! Composting, mulching, and cleaning out the animals' pens and enclosures were quickly and thoroughly accomplished thanks to the energies, compassion, and skills of these students. Springmont students are truly Stewards of the Environment, aware of the natural world and each person's responsibility for it.
---
Springmont School.
3 days ago
Despite today's gloriously warm weather, Lower Elementary classes have been enjoying a Montessori-inspired Snowman Building Relay in PE this week! Working collaboratively in small groups, students took turns being the runner, the builder, and the designer. Runners dashed across the Field and brought back a piece of PE equipment, handing it off to the builder who received directions from the designer for building their snowman. It was a hit, promoting both physical activity and cooperation and listening skills!
---