News
News
At Springmont, we're proud of our school and like share the accomplishments of our students, alumni, faculty and staff. Here you'll find information about Springmont including recent school news, articles about our curriculum and other interesting items. For additional press or media information, please contact Julie Strickland
jstrickland@springmont.com
or 404.252.3910.
Virtual Montessori Mile Results & Raffle Winners
October 05, 2020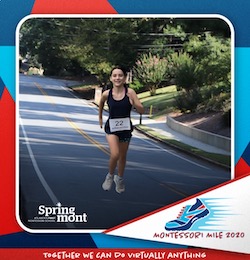 THANK YOU to all who participated in our first-ever Virtual Montessori Mile! It was a beautiful day for a run and the pictures you shared prove that Springmont's school spirit is alive and well! Look for more pictures on Facebook later today.
The following are the top place finishers; way to go! Ribbons will be sent home!
Men's Mile: 1st place: James Little; 2nd place: Patrick Burns (alumni parent); 3rd place: Hamilton Williams
Women's Mile: 1st place: Tamara Burns (alumni parent); 2nd place: Wendy Sandvi; 3rd place: Tara Gilbert
Boys' Mile: 1st place: Cole Kite-Powell; 2nd place: Mason Smith; 3rd place: Evan Clough
Girls' Mile: 1st place: Samantha Hakerem; 2nd place: Amelia Martin; 3rd place: Juliet Martin
And, here are our Raffle winners (look for information from Tiffany about when and how these will be distributed):
$50 Amazon Gift Card - Raluca Lazar
(4) passes to the Children's Museum - Justin Watson
Springmont Swag Bag - Jeremy Spain
Springmont Swag Bag - Sarah Fox
Springmont Swag Bag - Toshia Johnson