News
News
At Springmont, we're proud of our school and like share the accomplishments of our students, alumni, faculty and staff. Here you'll find information about Springmont including recent school news, articles about our curriculum and other interesting items. For additional press or media information, please contact Julie Strickland
jstrickland@springmont.com
or 404.252.3910.
Virtual Book Fair
November 15, 2021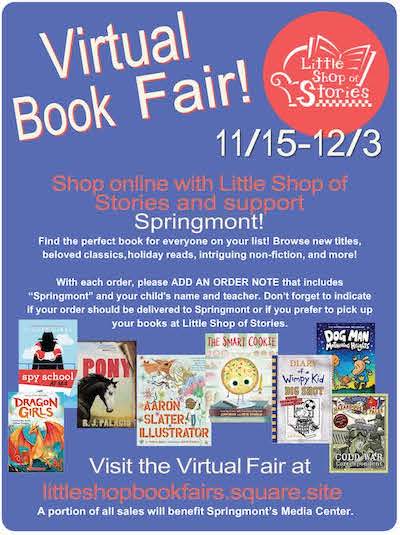 While we look forward to an in-person Book Fair this spring, you can support Springmont's Media Center now by shopping our
LITTLE SHOP OF STORIES ONLINE BOOK FAIR
THROUGH DECEMBER 3
Find the perfect book for everyone on your list! Browse new titles, beloved classics, holiday reads, intriguing non-fiction, and more!
* With each order, please ADD AN ORDER NOTE that includes "Springmont" and your child's name and teacher. Don't forget to indicate if your order should be delivered to Springmont or if you prefer to pick up your books at Little Shop of Stories.
* Books delivered to Springmont will be sent home with your child the week of December 13.
* Want to make it a holiday gift for your child? You can arrange a SECRET PICK UP by indicating "Secret Pick Up" on your Order Note and emailing Leslie Wachter. You will be notified when your order is ready.
Click the link below to shop now!