News
News
At Springmont, we're proud of our school and like to share the accomplishments of our students, alumni, faculty, and staff. Here you'll find information about Springmont, including recent school news, articles about our curriculum, and other interesting items. For additional press or media information, please contact Julie Strickland
jstrickland@springmont.com
or 404.252.3910.
The Springmont Festival & Montessori Mile is less than 3 weeks away!
September 25, 2023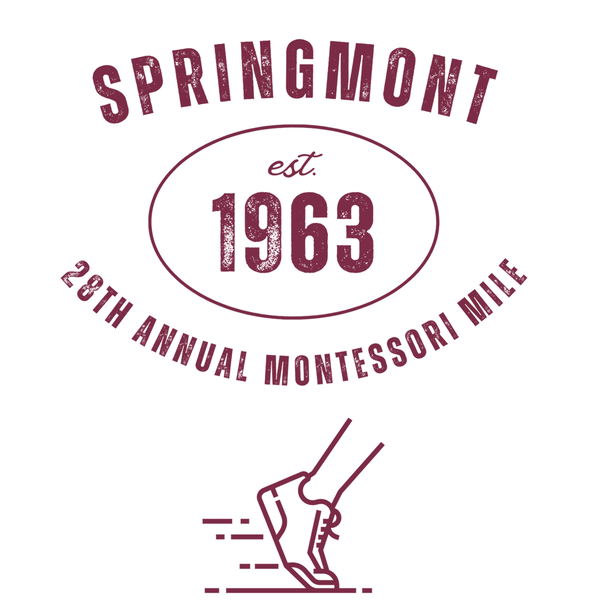 The 28th annual Springmont Festival & Montessori Mile is on Saturday, October 14!!
Even if you aren't a runner, all families are invited to join us on campus for the fun! The day begins with a warm-up in the Pavilion at 8:30, followed by one-mile fun runs on Long Island Drive for adults and children 6-14 years and then dashes for younger students (6 and under) on the Field. Other activities, listed below, will take place after the races and dashes!
Schedule:
8:30 a.m. - Warm-Up
8:45 a.m. - Adult Mile on Long Island Dr. (15 yrs. and over)
9:00 a.m. - Children's Mile on Long Island Dr. (6-14 yr. olds)
9:15 a.m. - Dashes on the Field for 3-6-year-olds; (6-year-olds may do the Dash, Children's Mile, or both).
9:30 a.m. - Diaper Derby (2 and under)
Want to help out? Have questions? Email Tiffany Orem
---
Race Registration
All fun run and dash participants, and anyone who wants one of the long-sleeved commemorative t-shirts, are encouraged to register! Registration is $25 per person and open through October 10 at 8 a.m. but t-shirt sizes may become limited. Click here to Register!
---
Enter the Chili Cook-Off!
Do you have a great chili recipe? Enter Springmont's 11th annual Chili Cook-Off for a chance to prove your recipe is Golden Ladle-worthy. You could win a fabulous prize basket! Chili of all varieties—black bean, red bean, spicy, mild, chicken, beef, vegetarian, and others are welcome.
Email Tiffany Orem to enter!
---
What else will be happening on campus?
Don't miss the Spirit Store, Class Markets, and Middle School Festival!
Ellen's Class will have homemade granola for sale!
Livia's Class is selling their famous pesto!
Springmont's Middle School will be running a fall festival offering smoothies (dairy and non-dairy options), craft making, pumpkin decorating, face painting, and more! They will also be hosting a Clothing Drive/Textile Recycling Opportunity! All textiles are welcome - clothing that can be donated as well as sheets, towels, and other fabric items that can be recycled! Look for more information in next week's newsletter!
Nathalie's Class will sell gourmet caramel apples, pumpkins made from vintage books, handmade jewelry, and homemade pumpkin butter!
Patricia & Brenda's Class will offer handmade bookmarks for just $1 each!
---
Calling All Alumni!
All alumni are invited to the Alumni Brunch in the Liberal Arts building beginning at 10:30 a.m. on Saturday, October 14. Please spread the word! If you know alumni, invite them to enjoy the day with us or bring them along with you! You can also help us build our alumni database by sharing this link and asking alumni to complete our alumni contact form https://forms.gle/HYdt9VVYLA474j989. They can also email development@springmont.com.
---
THANK YOU to our Platinum Sponsor!