News
News
At Springmont, we're proud of our school and like share the accomplishments of our students, alumni, faculty and staff. Here you'll find information about Springmont including recent school news, articles about our curriculum and other interesting items. For additional press or media information, please contact Julie Strickland
jstrickland@springmont.com
or 404.252.3910.
Sunday, May 9, is Mother's Day and the Virtual Premiere of the Upper Elementary Musicals!
May 03, 2021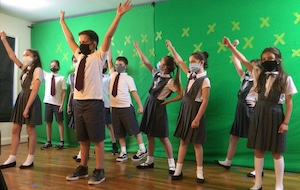 Guided by Music Teacher Carissa Gibson, Upper Elementary students have been hard at work for months preparing virtual presentations of Matilde! We hope the entire community will tune in for the virtual premiere on Sunday, May 9, at 4:00!
The musical is based on Roald Dahl's Matilda, a humorous story about a brilliant, magical little girl who's miserable at home with her clueless parents and oppressed at school by her mean headmistress. Matilda finds a loving, kindred spirit in her teacher, Miss Honey, who values her pupil's amazing brainpower.
Watch your email for a link to the show on Sunday, May 9!