News
News
At Springmont, we're proud of our school and like share the accomplishments of our students, alumni, faculty and staff. Here you'll find information about Springmont including recent school news, articles about our curriculum and other interesting items. For additional press or media information, please contact Julie Strickland
jstrickland@springmont.com
or 404.252.3910.
Springmont's Spirit Store is Online!
September 27, 2021
By Julie Strickland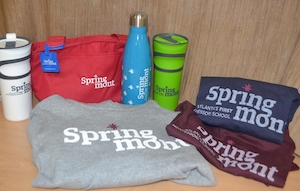 Thanks for your patience as we developed our online Spirit Store. We're pleased to offer a selection of items perfect for showing your school pride!
Click here to view current offerings and to place your order online.
Orders placed by 8 a.m. on Wednesdays are sent home with students on Thursdays.
Questions? Email Julie Strickland
Prefer to shop in person? The Spirit Store will also be open at our Saturday Socials on October 16!
Follow Us on Facebook!
---
Springmont School.
4 days ago
We're excited about our Saturday Socials tomorrow! Elementary & Middle School students have fresh pumpkin bread, homemade nut-free pesto, pumpkins, apples, microgreens, campus-grown mushrooms, organic eggs, homemade bread, handmade earrings, and more ready for our Market! We're proud of our students' enthusiastic, entrepreneurial mindset!
---
Springmont School.
6 days ago
We're excited about our new, after-school Lower Elementary Basketball program! Coached by Springmont parent Adrian Collins, students are having fun learning the basics of dribbling, passing, and shooting as well as good sportsmanship and some basketball history.
---