News
News
At Springmont, we're proud of our school and like share the accomplishments of our students, alumni, faculty and staff. Here you'll find information about Springmont including recent school news, articles about our curriculum and other interesting items. For additional press or media information, please contact Julie Strickland
jstrickland@springmont.com
or 404.252.3910.
Springmont to partner with Yay Lunch! for 2022-23
May 09, 2022
By Julie Strickland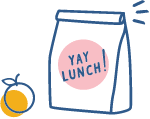 We are happy to announce that in addition to the Middle School-run Pizza Shop option on Mondays, Springmont will partner with Yay Lunch! for on-campus lunch deliveries Tuesdays-Fridays beginning in August of 2022. Yay Lunch! will work with local restaurants to curate menus specifically for Springmont. Parents will be able to order online, via a portal dedicated to Springmont, up to a month in advance, selecting from a variety of complete, healthy, and tasty lunches for their children. Lunches are made fresh, using simple, real ingredients, and delivered directly to campus daily. Stay tuned for more information!
Follow Us on Facebook!
---
Springmont School.
1 day ago
Despite the weather, this week's Toddler Field Days & Potluck Picnics were enjoyed by children and adults alike! Age-appropriate activities paired with tasty foods enjoyed in the company of teachers, classmates, and parents is the perfect way to celebrate the end of the school year!
---
Springmont School.
2 days ago
Thank you to all the parents who brought delicious dishes and sweet treats for today's Faculty/Staff Appreciation Potluck Lunch organized by the Springmont Parent Association! A special thank you to Ann Colonna, Sarah Fox, and Raluca Garcia Toma for setting everything up and cleaning up afterwards. We feel truly indulged and appreciated!
---