News
News
At Springmont, we're proud of our school and like share the accomplishments of our students, alumni, faculty and staff. Here you'll find information about Springmont including recent school news, articles about our curriculum and other interesting items. For additional press or media information, please contact Julie Strickland
jstrickland@springmont.com
or 404.252.3910.
Springmont has 5 River of Words Environmental Art Contest Winners!
April 04, 2022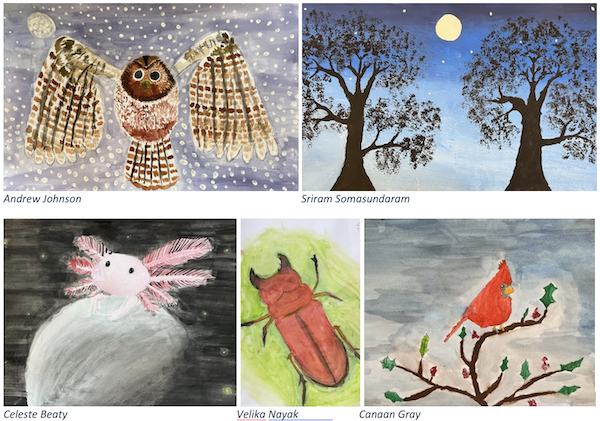 Each year Springmont Elementary & Middle School students submit their work to the Georgia River of Words Poetry & Art Contest hosted by Georgia Project WET, a part of the Georgia Environmental Protection Division. In addition to promoting creativity, this competition helps students learn about the watershed in which they live and the importance and value of protecting one of our most precious natural resources. Georgia entries are judged by the Georgia Center for the Book and the GA Environmental Protection Division.
Springmont is proud to have the following 5 students as winners and finalists! Upper Elementary student Andrew Johnson's Owl is a National Finalist. Springmont's Georgia State Winners include Lower Elementary student Canaan Gray's Cardinal, Upper Elementary student Celeste Beaty's Axolotl, Upper Elementary student Sriram Somasundaram's Moon Rising, and Middle School student Velika Nayak's Untitled. The Georgia River of Words Awards Ceremony will be held on Sunday, May 1, at the DeKalb County Library in Decatur.
We are so proud of our creative and environmentally conscious students who join Springmont's legacy of having at least one winner for the last 13 years! Thank you to Art Teachers Theresa Dean and Claire Tadeo for guiding this endeavor.