News
News
At Springmont, we're proud of our school and like to share the accomplishments of our students, alumni, faculty, and staff. Here you'll find information about Springmont, including recent school news, articles about our curriculum, and other interesting items. For additional press or media information, please contact Julie Strickland
jstrickland@springmont.com
or 404.252.3910.
Springmont Celebrates Dr. Martin Luther King, Jr.!
January 17, 2023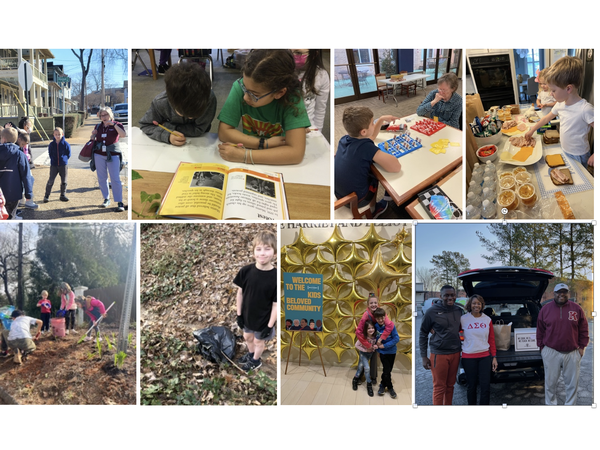 Dear Families,
Yesterday, my children and I participated in the Martin Luther King Jr. Day event at the Atlanta History Center. During our visit, we had the opportunity to listen to a presentation from the last surviving original Freedom Rider, Charles Person, and Freedom Rider, Flonzie Brown-Wright. Each spoke of their relationship with Dr. King and their role in the Civil Rights movement throughout their lives. It was inspiring to hear their stories, as well as their call to action for all people to continue Dr. King's legacy of non-violent social change, to one day achieve The Beloved Community, signified by the end of poverty, racism, and militarism worldwide. Dr. King believed every person was endowed with a role to play in accomplishing this vision. For society to reach this goal, Dr. King's work cannot only be celebrated on one day or during one month of the calendar year. It is daily work. It is more than community service. It is education. It is service. It is action. It requires intentional and thoughtful commitment. Each of us needs to commit to education, service, and action in order to make progress toward the vision of The Beloved Community. As January is the month for New Year's resolutions, perhaps you might consider Martin Luther King Jr. Day as an opportunity to create a resolution for how you and your family will contribute to social change. I invite you to reflect on where you are currently – how are you continuing to educate yourself and your children; do you make service a priority; are you generous with your resources; do you advocate for the needs and rights of others who are different from you? On this day after Martin Luther King Jr. Day and leading into Black History Month, I encourage you to make a resolution for yourself and your family regarding how you will educate yourselves, serve others, and take action together in the coming year.
For more information regarding The Beloved Community and Dr. King's vision, please click here https://thekingcenter.org/about-tkc/the-king-philosophy/. For family-friendly service opportunities consider exploring Pebble Tossers https://www.pebbletossers.org. Explore the Center for Civil and Human Rights for opportunities to take action https://www.civilandhumanrights.org/initiatives/.
Respectfully,
Megan

As a follow-up to last week's article about opportunities for service and learning in celebration of Dr. King, we wanted to highlight some of the wonderful efforts shared with us by members of our community! It's not too late to share your family's initiative – email photos and info to jstrickland@springmont.com.

• Toddler parents Yeminjal Nicholas and Thea Patrick and Lower Elementary student London Patrick volunteered with the Westside Future Fund at the Tuskegee Airmen Academy.
• The Maiwand family organized a neighborhood cleanup!
• The Sandvi family visited with residents of the Campbell Stone senior home in Buckhead.
• The Simmons family made lunches for the Atlanta Mission shelter!
• The Sanders family picked up nearly 5 bags of trash, pulled up privet, and cut back other invasive weeds along the Comet Trail Extension in Smyrna.
• The Hakerem family visited the Atlanta History Center.
• The Clark Family continued their tradition of volunteering each MLK Day with Open Hand Atlanta, delivering meals to individuals with nutrition-sensitive chronic diseases.