News
News
At Springmont, we're proud of our school and like share the accomplishments of our students, alumni, faculty and staff. Here you'll find information about Springmont including recent school news, articles about our curriculum and other interesting items. For additional press or media information, please contact Julie Strickland
jstrickland@springmont.com
or 404.252.3910.
Springmont Celebrated Earth Day!
April 26, 2021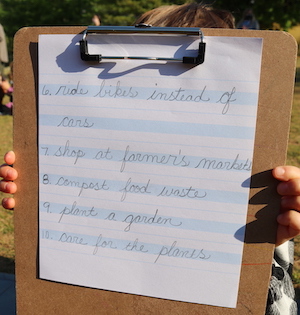 Last Wednesday was a glorious day to celebrate our Earth! And thanks to Outdoor Science Education Teacher Michelle Wolfersberger, classroom teachers, and our students who are all becoming wonderfully conscientious stewards of the environment, classes were able to gather safely outdoors to share ideas, poems, music and song! Click here for motre photos shared on Facebook!
Here is the poem, The Springmont Forest, collaboratively written and shared by the Middle School:
Tiny sprouts are in the ground,
lost in a wonderland so beautiful
it feels calm.
Colors all over—
violet purple, Yellow weeds
tones of brown and
a canopy of youthful green
trees all around me.
Bugs biting, animals hiding
in a backyard to some but a home to more.
The thick layer of leaves
make very good crunches.
Birds use them in their nests
and toads act as if a thick layer of leaves is a raft.
The leaves, once fallen, will rise again
as plants poke, grow, and sprout,
steadily pushing and bending with the wind.
Quiet breezes in the air,
luscious peace feels moist and warm, and
water shines and sparkles
when the sun hits its surface.
The creek flows slowly,
bending and weaving 'round leaves,
as water bugs dance on the glassy surface.
To take care of Earth,
nature's calling,
feels almost unreal.
Walking by a stream
I see the moss beside a tree
caught in the sand
or captured by the roots.
I turn my head and face the sky
and see the sun pass by—
what a sight to see.
Spider webs cross each tree and
start forming, thick and thin
but I only can catch them with my eyes.
The Springmont forest:
sounds mixed with engines and birds.
Bees fly around leaves and stalks
and well-smelling petals.
The smell is a signature.
And the trees, root, vines are together as one,
connected, listening while
students write poetry.
Everything is calm,
a blossoming green peace
surrounding us.