News
News
At Springmont, we're proud of our school and like share the accomplishments of our students, alumni, faculty and staff. Here you'll find information about Springmont including recent school news, articles about our curriculum and other interesting items. For additional press or media information, please contact Julie Strickland
jstrickland@springmont.com
or 404.252.3910.
Springmont Alumni Day of Apprceiation
September 08, 2020
By Lauren Stevenson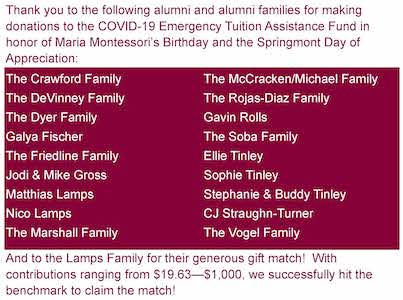 Last Monday, as the school celebrated Maria Montessori's 150th Birthday, our alumni celebrated with a Day of Appreciation for Springmont and the Montessori method. Alumni shared fond memories and made donations to the COVID-19 Emergency Tuition Assistance Fund to help our current families continue their Springmont experience despite any financial hardship caused by the pandemic. We are so grateful for this generous community!
Follow Us on Facebook!
---
Springmont School.
today
Photos from Springmont School.'s post
It's a beautiful day for Jenny, our female turkey, and her two new chicks to take a stroll! Believe it or not, Jenny brooded eggs laid by our chickens, but her babies just know her as mom. Families are created in all sorts of ways!
---
Springmont School.
3 days ago
Photos from Springmont School.'s post
There's a lot to be said about the value of concentration and the satisfaction of a job well done! Primary activities such as those pictured here also develop the fine-motor skills and sequencing needed for academics like reading and writing.
---