News
News
At Springmont, we're proud of our school and like share the accomplishments of our students, alumni, faculty and staff. Here you'll find information about Springmont including recent school news, articles about our curriculum and other interesting items. For additional press or media information, please contact Julie Strickland
jstrickland@springmont.com
or 404.252.3910.
Shakespeare Short Premiere
April 05, 2021
By Julie Strickland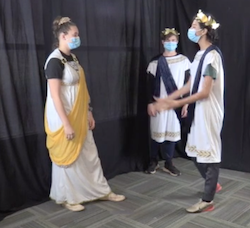 The Virtual Premiere of the Middle School's 2021 Shakespeare Shorts production was on Saturday afternoon, but it's not too late to see the show! We are excited to share the hard work and talents of these students and thank Middle School Teacher Gretchen Stamps, IT Manager Kelcy Gatson, and Art Teacher Theresa Dean for making this important student experience a reality despite the pandemic.
Follow Us on Facebook!
---
Springmont School.
2 days ago
Thank you to DDS Wendy Musicer who joined our Lower Elementary classes via Zoom today to discuss dental hygiene. Parent volunteers willing to share their areas of expertise with our students are much appreciated! Thanks, Wendy!
---
Springmont School.
3 days ago
How many of you remember learning about fractions? Wouldn't it have been easier to 'see' what the teacher was talking about? The Montessori fraction materials in our Elementary classrooms provide a visual representation as students explore mathematical operations with fractions, generating greater understanding and proficiency.
---