News
News
At Springmont, we're proud of our school and like to share the accomplishments of our students, alumni, faculty, and staff. Here you'll find information about Springmont, including recent school news, articles about our curriculum, and other interesting items. For additional press or media information, please contact Julie Strickland
jstrickland@springmont.com
or 404.252.3910.
Middle School Science/Art Projects on Display at Sandy Springs Library!
November 06, 2023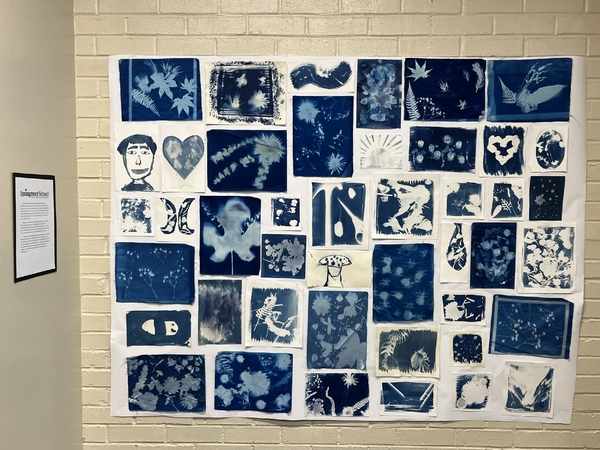 Springmont's Middle School students have been exploring the photographic process of cyanotype in art and the structure and function of plant parts in science. The cyanotype process was invented by scientist Sir John Herschel in 1842 as an easier way to copy his notes and diagrams than the silver-based photographic processes of the time. Cyanotype uses iron salt solutions rather than silver. When the solution is exposed to UV light, the result is a deep blue print.
Students were inspired by Photographs of British Algae: Cyanotype Impressions by Anna Atkins. While previous scientific studies were illustrated with drawings, Atkins' book was the first illustrated entirely with photos. Atkins learned of cyanotype directly from Herschel and found that the process was extremely effective for accurate botanical representation.
To begin their projects, students selected pretreated fabric or painted the chemicals onto paper. Each student then gathered natural materials from around campus to place on top of the treated fabric and paper. Finally, students placed their pieces outside to expose them to UV light, with a piece of glass placed on top to hold all the materials in place. Once fully exposed, the prints were washed in a water bath to bring out the blue color that is unique to the cyanotype process.
These pieces are on display through the end of November at the Sandy Springs Library as part of their STEM-related displays!