News
News
At Springmont, we're proud of our school and like share the accomplishments of our students, alumni, faculty and staff. Here you'll find information about Springmont including recent school news, articles about our curriculum and other interesting items. For additional press or media information, please contact Julie Strickland
jstrickland@springmont.com
or 404.252.3910.
Middle School Egg & Seedling Sale - May 19
May 09, 2022
By Julie Strickland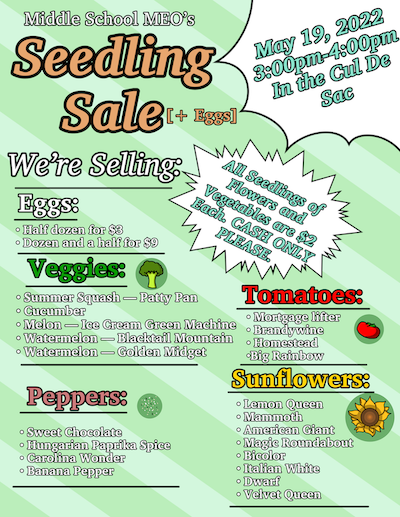 Make sure to swing through the cul de sac on Thursday, May 19, from 3 to 4 p.m. to purchase pepper, sunflower, melon, and other seedlings planted by Middle School students. Seedings are just $2 per plant! While you're there, pick up a half-dozen eggs ($3) or a dozen and a half ($9)! Please bring cash for your purchases. And thank you for supporting the Middle School MEO (micro-economy-other)!
Follow Us on Facebook!
---
Springmont School.
1 day ago
Despite the weather, this week's Toddler Field Days & Potluck Picnics were enjoyed by children and adults alike! Age-appropriate activities paired with tasty foods enjoyed in the company of teachers, classmates, and parents is the perfect way to celebrate the end of the school year!
---
Springmont School.
2 days ago
Thank you to all the parents who brought delicious dishes and sweet treats for today's Faculty/Staff Appreciation Potluck Lunch organized by the Springmont Parent Association! A special thank you to Ann Colonna, Sarah Fox, and Raluca Garcia Toma for setting everything up and cleaning up afterwards. We feel truly indulged and appreciated!
---