News
News
At Springmont, we're proud of our school and like share the accomplishments of our students, alumni, faculty and staff. Here you'll find information about Springmont including recent school news, articles about our curriculum and other interesting items. For additional press or media information, please contact Julie Strickland
jstrickland@springmont.com
or 404.252.3910.
Meet Elementary ROLO Teacher Patricia Jordan
January 11, 2021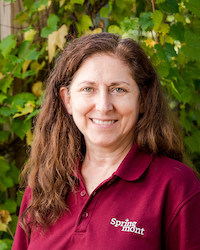 What do you wish people knew about Montessori or your classroom? I wish people understood that Montessori is a form of education built in response to the natural course of child development. Many approaches to education work the other way around, with an outcome in mind, and work to fit the child into that desired outcome. Our goal is to foster the true potential of each child.
Do you have a favorite area of the classroom? Is there a particular lesson you like to give to new students and why? My favorite area of the classroom is math. I am still in awe of the manipulative materials that we use to introduce the children to mathematical concepts. During my Montessori training, I saw relationships and came to understand elements of math that had not been clear to me before.
I love to introduce students who are new to Elementary to the Wooden Hierarchical Material. This material is a scaled model of the decimal system from the unit to the million. Watching the connections children make between the categories and the geometric representation of them is such a joy to witness!
What is one thing that you think defines you as a person? One thing that defines me as a person is inquiry. I am constantly asking questions, seeking to understand, expand and clarify my understanding of the universe and my place in it. In my work with children, this manifests in a desire to know the children as well as possible, allowing me to meet them where they are and use their interests and curiosity to help them grow as learners and as humans.