News
News
At Springmont, we're proud of our school and like share the accomplishments of our students, alumni, faculty and staff. Here you'll find information about Springmont including recent school news, articles about our curriculum and other interesting items. For additional press or media information, please contact Julie Strickland
jstrickland@springmont.com
or 404.252.3910.
It's a Cinch to Help Springmont!
January 05, 2022
By Julie Strickland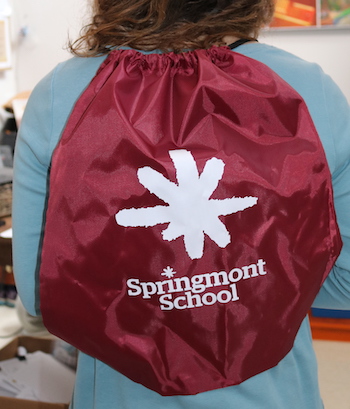 As part of our Share Springmont campaign, look for staff members handing out these cool new Springmont cinch sacks at arrival carpool later this week!
You can help Springmont by inviting your neighbors, friends, colleagues, and co-workers to join us for one of our Open Houses!
Virtual Open House: Thursday, January 13, 4:30 p.m. (The Zoom link will be shared with those who RSVP.)
On Campus Open House: Sunday, January 23, beginning promptly at 2:00 p.m. (RSVPs requested. Adults only, please)
Follow Us on Facebook!
---
Springmont School.
5 days ago
Springmont's core value Stewardship of the Environment couldn't be more evident than in the recent, spontaneous efforts of our Middle School students. After discovering several species of salamanders living in the creek that runs through campus, two students noticed the creek needed a clean-up. They enlisted the help of some friends, and during recess, gathered 2.5 giant contractor-sized bags of trash! Being aware of one's responsibility for the well-being of our planet and taking action independently is environmentalism at its finest!
---
Springmont School.
1 weeks ago
Recently students in Livia's Lower Elementary class explored the layers of the earth, independently building clay models as a follow-up to the lesson presented by the teacher. Not only is hands-on learning more fun and engaging but it also leads to greater retention because it engages all the senses. Springmont - Extraordinary by Design!
---