News
News
At Springmont, we're proud of our school and like share the accomplishments of our students, alumni, faculty and staff. Here you'll find information about Springmont including recent school news, articles about our curriculum and other interesting items. For additional press or media information, please contact Julie Strickland
jstrickland@springmont.com
or 404.252.3910.
Hello from the Library!
September 07, 2021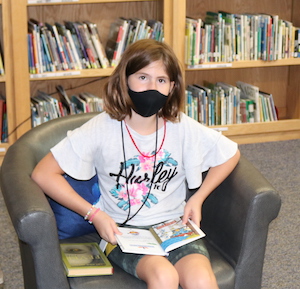 Springmont students have been enjoying being back in the library in person this year. They love browsing for that new title in a series or exploring the nonfiction section for a research topic.
Primary students are back in the library for book checkout as a part of their class' weekly schedule, and students keep their checked-out books in the classroom. If parents would like their children to bring home books, parents may request two library books be sent home by emailing Media Center Specialist Leslie Wachter. The loan period is two weeks.
Elementary students are also visiting the library once a week for book browsing and checkout. Each class has a designated morning, and students are also free to come in the afternoon for a quick book exchange.
Middle School students can visit the library daily during lunch/recess. They have a monthly browse and checkout time on the first Friday of every month.
Other Library Programs - We hope that our Upper Elementary Book Club, a favorite with our avid readers, will be able to return in October - look for more details in your Upper Elementary child's class letter. Virtual Guest Authors will continue this year, and be on the lookout for a Book Fair in the spring!