News
News
At Springmont, we're proud of our school and like share the accomplishments of our students, alumni, faculty and staff. Here you'll find information about Springmont including recent school news, articles about our curriculum and other interesting items. For additional press or media information, please contact Julie Strickland
jstrickland@springmont.com
or 404.252.3910.
Health & Safety Updates
September 13, 2021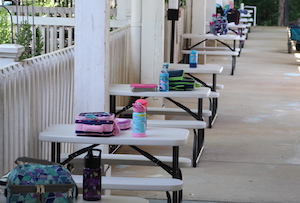 Primary Picnic Tables - In addition to the outdoor eating spaces available to Elementary & Middle School students, we have added additional picnic tables for our Primary students. Classes are encouraged to eat outdoors whenever possible.
Hand, Foot & Mouth - Springmont has updated our Key Information Parent Handbook regarding Hand, Foot & Mouth disease. Due to the highly contagious nature of this virus, children with HFMD should remain at home and may return to school after being fever-free for 24 hours without fever-reducing medications and when open blisters in the mouth and on the skin have healed.
Runny Noses - We are aware that Atlanta's fall allergy season is upon us! Students with slightly runny noses are permitted to attend school so long as the discharge is clear, and they do not have any other symptoms or COVID exposure, and are able to wear their masks.
Notifications vs. Classroom Quarantines - In an abundance of caution and to promote transparency, Springmont notifies parents of positive cases of COVID-19 in their child's class. The decision to quarantine a class happens when the positive case exposes other students and adults during the positive case's infectious period as determined by the Fulton County Board of Health epidemiologist. There are times when the positive case, because of timing and particulars of the situation, is unlikely to expose other students; in this case, we notify parents but don't quarantine the class.
Police Officers on Campus - Beginning this week, we will have off-duty police officers on campus to help direct traffic on Long Island Drive during morning arrival. After carpool concludes, they will also patrol campus and offer classes opportunities for public safety presentations in the Pavilion.