News
News
At Springmont, we're proud of our school and like share the accomplishments of our students, alumni, faculty and staff. Here you'll find information about Springmont including recent school news, articles about our curriculum and other interesting items. For additional press or media information, please contact Julie Strickland
jstrickland@springmont.com
or 404.252.3910.
Extraordinary By Design
August 26, 2019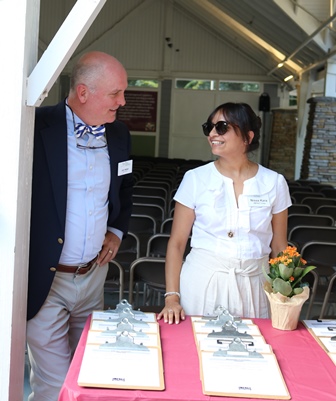 Opening Night marks the official start of the 2019-20 school year. The following was excerpted from Head of School Jon Alden's comments to parents.
This summer I attended the first-ever AMI Administrators Certificate Course held at Post Oak School in Houston, a toddler - high school Montessori school with about 500 students. The program was great, and it was wonderful to spend a week with 40 other Montessori leaders from across the country and around the world.
One aspect that came to light during the week were the differences in Montessori programming offered by various schools and centers. While most of the course participants worked at independent schools similar to Springmont, there were also several public school principals and administrators from for-profit Montessori companies. As I learned about some of the other programs, it became clear to me that not all Montessori programs are equal. In fact, I was shocked by the comments many of the public and for-profit Montessori folks made about the materials and classrooms at Post Oak – which, like Springmont, is an AMI-recognized school.
I had mistakenly assumed that all Montessori programs valued garden spaces and curated classrooms outfitted with materials made from natural fibers. After hearing for at least the tenth time, "Wow, I wish we had this at my school" or "Oh, that makes sense. We should ask our teachers to do that," I realized how extraordinary Springmont is.
Springmont IS extraordinary, and it is Extraordinary by Design. I have learned more about Dr. Montessori and her educational philosophy in the last 12 months than I had in the previous 20 years of my career. My only regret is that I didn't come to an AMI Montessori school sooner.
When I say that Springmont is Extraordinary by Design, I am referring to the meticulous design of an AMI classroom and the trained guides that facilitate the magic that happens in our school every day as well as everything that happens behind the scenes to create the best possible learning environment for our students. Dr. Montessori wrote:
"Our care of the child should be governed, not by the desire to make him learn things, but by the endeavor always to keep burning within him that light which is called intelligence."
This is what we might call today instilling a life-long love of learning. But it's not enough to just instill a love of learning, the environment in which the learning occurs plays a huge part. It is our job to stoke the fire wherever the child discovers a spark, and sometimes that means stepping back from obvious learning and teaching. It is more important that we follow the child on his or her learning journey and stay focused on the cognitive spark ignited within the prepared environment.
The prepared environment is also important because children surrounded by love, the natural world, patience and order grow to be balanced adults whose minds reflect those qualities. Dr. Montessori observed and wrote:
"The child has a different relation to his environment from ours… the child absorbs it. The things he sees are not just remembered; they form part of his soul. He incarnates in himself all in the world about him that his eyes see and his ears hear."
The extraordinary design at Springmont goes beyond the classroom. You may remember that the Board of Trustees worked on a new Strategic Plan last year, and we will be implementing a number of strategic initiatives this year, including:
• A Parent Ambassador program to work in conjunction with the Admission office.
• Increased collaboration between IMPACT and the administration to facilitate more meaningful community engagement.
• An enhanced significance of Montessori in marketing our program, including the addition of the word Montessori to the Mission Statement and possibly to the school name.
• A budgeted increase for faculty Professional Development.
• The creation of a strategic plan for the Landschool.
Extraordinary by Design is our theme for the year, and I hope you will see it reflected in all aspects of the school – in the classrooms, in your interactions with school personnel, in our communications with you, and in the value of the Springmont experience. I look forward to a marvelous school year filled with opportunities to deepen our partnership with you and your children and to improve upon our extraordinary design.