News
News
At Springmont, we're proud of our school and like share the accomplishments of our students, alumni, faculty and staff. Here you'll find information about Springmont including recent school news, articles about our curriculum and other interesting items. For additional press or media information, please contact Julie Strickland
jstrickland@springmont.com
or 404.252.3910.
Black History Month
February 22, 2021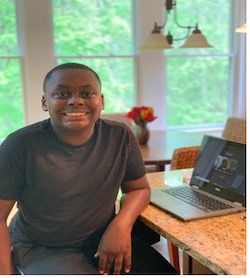 Black History Month is an important month to me. It helps me learn and explore the courageous men and women who contributed to our freedom. The situations over the last year inspired me to learn more about Black History. During the summer, the protests for George Floyd's death made me think that people do care for other people. It also made me think of historical figures who have made a difference for our community. Here are three people who I have learned about this Black History Month.
Malcolm X was born on May 19, 1925, in Omaha, Nebraska. He was the fourth of eight children born to Louise, a homemaker, and Earl Little, a preacher who was also an active member of the local chapter of the Universal Negro Improvement Association. Malcolm X was a minister, human rights activist and prominent Black nationalist leader who served as a spokesman for the Nation of Islam during the 1950s and 1960s. Malcolm X encouraged Black people to end racism "by any means necessary". Malcolm X passed in 1965 in New York.
Henry O. Flipper was born on March 21, 1856, in Thomasville, Georgia. Henry was appointed to the U.S. Military Academy at West Point, New York in 1873. Henry became the first Black officer in the U.S. Army. In 1881 Henry was accused of embezzling $3,791.77 from commissary funds. A court-martial found him not guilty of embezzlement but convicted him of conduct unbecoming an officer and ordered him dismissed from the Army. After his dishonorable discharge, Flipper fought to clear his name as he pursued a career as an engineer on Spanish and Mexican land law. In 1898 a bill reinstating him into the Army and restoring his rank was introduced in Congress on his behalf. Henry O. Flipper passed away in 1940.
Bessie Coleman was born on January 26, 1892, in Atlanta, Texas. Bessie had 12 brothers and 12 sisters. Her mother, Susan Coleman was an African American maid, and her father George Coleman was a sharecropper of mixed Native American and African American descent. At age 23, Coleman went to live with her brothers in Chicago. She went to Burnham School of Beauty Culture in 1915. She became a manicurist in a local barbershop. Meanwhile, her brothers served in the military during World War I and came home with stories from their time in France. Her brother John told her that women flew airplanes in France. Bessie decided to go to Crotoy, France and become a pilot. Coleman received her international pilot's license and became the first Black woman to get that license on June 15, 1921. Bessie Coleman died as the result of a plane crash on April 30, 1926.
I learned about three people during this Black History Month: A Civil Rights Activist, someone who was the first Black officer in the Army, and the first Black woman to have an international pilot's license. I learned that It doesn't matter what you look like or what race you are, you can do anything you set your mind to. I hope that you and your family will spend this Black History Month learning about influential leaders who helped shape our future.