News
News
At Springmont, we're proud of our school and like share the accomplishments of our students, alumni, faculty and staff. Here you'll find information about Springmont including recent school news, articles about our curriculum and other interesting items. For additional press or media information, please contact Julie Strickland
jstrickland@springmont.com
or 404.252.3910.
Awesome International Night!
February 04, 2019
By Julie Strickland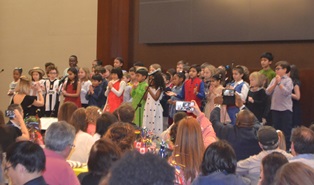 International Night 2019 was absolutely fantastic! As always, International Night was a strong testament to our school's commitment to our core value of Global Awareness. Kudos to Music Teacher Carissa Gibson and all the students for a beautiful musical program. Thank you to all the families who braved the traffic to attend, bringing such delicious food. And thank you to the volunteers whose many hands made light work of set-up and clean-up. Our school is only as good as our community - and it's obvious this is a great place! Look for more pictures on Facebook.
Follow Us on Facebook!
---
Springmont School.
1 day ago
Photos from Springmont School.'s post
Springmont is abuzz with excitement! Thanks to a generous grant from The Bee Cause Project, we have bees on campus! The grant included a Langstroth hive, beekeeping equipment, fun supplies from the Savannah Bee Company, signage and teaching materials as well as funding for the bees and additional equipment. We hope this is the bee-ginning of a long, successful partnership with The Bee Cause Project. If that wasn't enough, Logan Pratt, a Primary student's grandfather, gifted us a second hive! Having two hives will greatly enhance student learning opportunities and further our efforts to protect and promote these critical pollinators.
---
Springmont School.
2 days ago
Photos from Springmont School.'s post
Today is Earth Day! Springmont celebrated with a whole-school outdoor assembly! Students shared thoughts, poems and songs and planted seed paper in our new pollinator garden - all guided by one of our school's core values - Stewardship of the Environment!
---