News
News
At Springmont, we're proud of our school and like share the accomplishments of our students, alumni, faculty and staff. Here you'll find information about Springmont including recent school news, articles about our curriculum and other interesting items. For additional press or media information, please contact Julie Strickland
jstrickland@springmont.com
or 404.252.3910.
Awesome International Night!
February 04, 2019
By Julie Strickland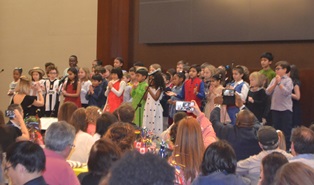 International Night 2019 was absolutely fantastic! As always, International Night was a strong testament to our school's commitment to our core value of Global Awareness. Kudos to Music Teacher Carissa Gibson and all the students for a beautiful musical program. Thank you to all the families who braved the traffic to attend, bringing such delicious food. And thank you to the volunteers whose many hands made light work of set-up and clean-up. Our school is only as good as our community - and it's obvious this is a great place! Look for more pictures on Facebook.
Follow Us on Facebook!
---
Springmont School.
1 day ago
Photos from Springmont School.'s post
Each February, Toddler & Primary classes invite families to join in Community Outreach or Service Projects. This year, Dajar and Rosanne's families packed meals bags that will be donated to the Latin American Association's food pantry. Remzije and Zaiba's classes packed toiletries for The Drake House, a local resource for homeless mothers and children. Projects like these give children a tangible way to practice compassion, an integral part of Global Awareness, one of our school's core values.
---
Springmont School.
2 days ago
Twelve members of Springmont's Running Club, open to Upper Elementary and Middle School students, participated in Sunday's Hot Chocolate road race. Many students ran personal bests, and in his first ever 5K, Cole came in 4th of 211 boys 14 and under. Way to go runners!
---