News
News
At Springmont, we're proud of our school and like share the accomplishments of our students, alumni, faculty and staff. Here you'll find information about Springmont including recent school news, articles about our curriculum and other interesting items. For additional press or media information, please contact Julie Strickland
jstrickland@springmont.com
or 404.252.3910.
Awesome International Night!
February 04, 2019
By Julie Strickland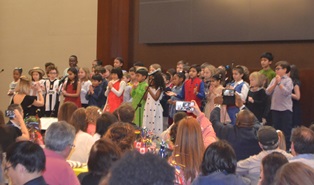 International Night 2019 was absolutely fantastic! As always, International Night was a strong testament to our school's commitment to our core value of Global Awareness. Kudos to Music Teacher Carissa Gibson and all the students for a beautiful musical program. Thank you to all the families who braved the traffic to attend, bringing such delicious food. And thank you to the volunteers whose many hands made light work of set-up and clean-up. Our school is only as good as our community - and it's obvious this is a great place! Look for more pictures on Facebook.
Follow Us on Facebook!
---
Springmont School.
4 days ago
Photos from Springmont School.'s post
Storytelling is an art, and campers were thrilled to participate in Cathy Kaemmerlen's fables and fairytales yesterday. We hope our parents are sharing the "Springmont story" with friends, neighbors and coworkers - after all, word of mouth is the best way for new families to hear about Springmont!
---
Springmont School.
6 days ago
Photos from Springmont School.'s post
Sometimes it's just too hot to go outside making it a perfect morning for some indoor fun with Playdough and fellow summer campers! We are gearing up for the new school year. Parents, please be on the lookout for lots of back-to-school information via email this week and next!
---