News
News
At Springmont, we're proud of our school and like share the accomplishments of our students, alumni, faculty and staff. Here you'll find information about Springmont including recent school news, articles about our curriculum and other interesting items. For additional press or media information, please contact Julie Strickland
jstrickland@springmont.com
or 404.252.3910.
Announcing the 2020-21 Yearbook Cover Art Contest
October 13, 2020
By Julie Strickland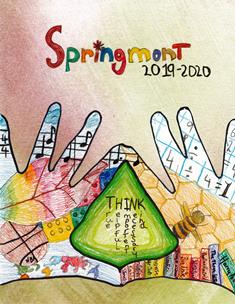 YES! There will be a 2020-21 Yearbook! As has become tradition, students are invited to submit full-color, 8½ X 11" entries for the cover. Creativity and originality are encouraged and collaboration is welcome! Students should consider what Springmont represents and favorite things about Springmont. Entries are due to Andrea Restifo by November 6. Artwork will not be returned and may be used for other Springmont publications.
Follow Us on Facebook!
---
Springmont School.
1 day ago
Photos from Springmont School.'s post
Chris' Lower Elementary Class enjoyed a Virtual Field Trip to the Museum of Design Atlanta last week. Students made and flew paper bats, measuring and graphing the distances flown. Combining physics, math and fun is not unusual at Springmont! #museumofdesignatlanta
---
Springmont School.
5 days ago
Why do you give? See why some of our community members choose to support the Springmont Fund. We are truly all Stronger Together. Click the link below to make your donation or pledge today!
https://www.springmont.com/giving/
---