News
News
At Springmont, we're proud of our school and like share the accomplishments of our students, alumni, faculty and staff. Here you'll find information about Springmont including recent school news, articles about our curriculum and other interesting items. For additional press or media information, please contact Julie Strickland
jstrickland@springmont.com
or 404.252.3910.
Drones for Good!
March 18, 2019
By Julie Strickland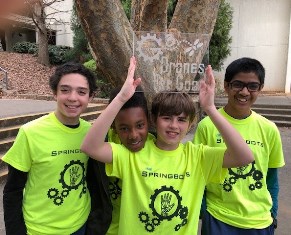 Springmont's Robotics Team, the Springbots, did an amazing job at the G3 Drones for Good competition held at Grady High School on Saturday. Their drone flew really well, scoring 17 points, and the students' creative problem-solving project, a hypothetical fleet of drones that could help lead people to food, shelter and medical care after a natural disaster, won 1st prize! The judges were so impressed they encouraged our students to start a business.
Final rankings will be released later this week, but overall we think the team placed 7th out of 28 teams. Congrats to team members Ian, Timothy, Mason and Siddhu! They are already looking forward to next year's competition.
Follow Us on Facebook!
---
Springmont School.
1 day ago
Photos from Springmont School.'s post
Springmont is abuzz with excitement! Thanks to a generous grant from The Bee Cause Project, we have bees on campus! The grant included a Langstroth hive, beekeeping equipment, fun supplies from the Savannah Bee Company, signage and teaching materials as well as funding for the bees and additional equipment. We hope this is the bee-ginning of a long, successful partnership with The Bee Cause Project. If that wasn't enough, Logan Pratt, a Primary student's grandfather, gifted us a second hive! Having two hives will greatly enhance student learning opportunities and further our efforts to protect and promote these critical pollinators.
---
Springmont School.
2 days ago
Photos from Springmont School.'s post
Today is Earth Day! Springmont celebrated with a whole-school outdoor assembly! Students shared thoughts, poems and songs and planted seed paper in our new pollinator garden - all guided by one of our school's core values - Stewardship of the Environment!
---