News
News
At Springmont, we're proud of our school and like share the accomplishments of our students, alumni, faculty and staff. Here you'll find information about Springmont including recent school news, articles about our curriculum and other interesting items. For additional press or media information, please contact Julie Strickland
jstrickland@springmont.com
or 404.252.3910.
Drones for Good!
March 18, 2019
By Julie Strickland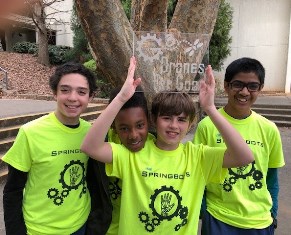 Springmont's Robotics Team, the Springbots, did an amazing job at the G3 Drones for Good competition held at Grady High School on Saturday. Their drone flew really well, scoring 17 points, and the students' creative problem-solving project, a hypothetical fleet of drones that could help lead people to food, shelter and medical care after a natural disaster, won 1st prize! The judges were so impressed they encouraged our students to start a business.
Final rankings will be released later this week, but overall we think the team placed 7th out of 28 teams. Congrats to team members Ian, Timothy, Mason and Siddhu! They are already looking forward to next year's competition.
Follow Us on Facebook!
---
Springmont School.
today
Photos from Springmont School.'s post
Last Friday's Toddler/Primary Playdate at Chastain Park was fun for all and a great way for families new to Springmont to meet future classmates and connect with other parents. If you missed it, make sure to mark your calendars for July 9 at 10 am.
---
Springmont School.
1 day ago
Photos from Springmont School.'s post
Water play day is always a favorite part of summer camp! Aside from being great fun, young children learn about volume and spatial relationships, practice sharing and waiting for a turn, and develop fine-motor skills, hand-eye coordination, and social skills.
---