News
News
At Springmont, we're proud of our school and like share the accomplishments of our students, alumni, faculty and staff. Here you'll find information about Springmont including recent school news, articles about our curriculum and other interesting items. For additional press or media information, please contact Julie Strickland
jstrickland@springmont.com
or 404.252.3910.
Parent Education Opportunities
September 06, 2022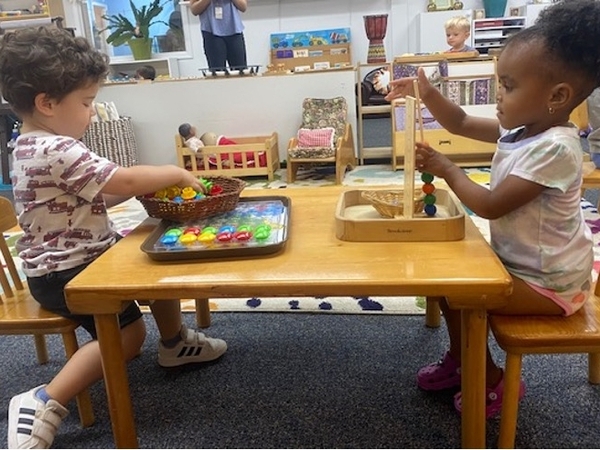 Each year as students begin to settle into their school year routines, parents are invited to join Teachers for Parent Education events. In addition to building community by providing opportunities for parents to spend time with Teachers and other parents, these events offer essential insights into the how and why of Montessori or information about the challenging child-rearing issues faced by today's parents. Montessori is a way of life that extends beyond the classroom walls, and Springmont parents are encouraged to attend these events to better connect school and home.
Upper Elementary & Middle School: All Upper Elementary and Middle School parents are invited to Digital Native or Digital Naïve? on Wednesday, September 14, 4:30-6:30. Come learn how you can help your children make smarter decisions with technology! Ben Halpert, Founder and President of Savvy Cyber Kids, will share the tools parents need to educate their children about the "modern street smarts" required for digital safety, as well as tips for effectively engaging with their children to empower them to make safe, appropriate decisions in the online world. Parents will learn how to provide their children with the skills to be cyber-aware while simultaneously and successfully developing and sustaining friendships and social interactions without the use of technology. Even if your children have been immersed in screens, virtual worlds, and all that technology has to offer for years, it's not too late to have the "tech talk." If you are unable to attend in person, we will be hosting a live stream.
Lower Elementary: All Lower Elementary parents are invited to A Day in the Life of the Lower Elementary Child on Tuesday, September 20, 4:30-6:00. Join Brenda, Livia, and Patricia for a slide show illustrating a typical day in the life of a Lower Elementary child accompanied by a discussion of the importance of fostering independence during the Elementary years. Children benefit from parents and teachers using similar language and strategies to engage them in taking care of themselves and their environments. Parents may even learn a few techniques to make morning routines run smoother!
Primary: All Primary parents are invited to Outcomes of Engaged Work in the Montessori Classroom on Wednesday, September 28, 4:30-6:00. Join the Primary Teachers to learn about how the development of foundational skills in Primary classrooms leads to brain development and happy children, parents, and teachers! Teachers will lead a discussion about how engaged work and self-exploration in the classroom help students hone concentration, independence, logical sequencing, will, and motor coordination and how, in turn, these skills create healthy, inspired, lifelong learners and doers.
Toddler: All Toddler Parents are invited to Connecting the Dots between Home and School on Tuesday, October 4, 4:30-6:00. Your child's world is expanding to include a community outside of your home. In addition to beginning to interact with the wider world, your child is starting to experience some autonomy. While this is wonderful and exciting for your child, we know this can be challenging for parents. Remzije, Toshia, and Zaiba invite parents to learn more about supporting their children (and themselves!) through this transition. What methods and techniques can parents implement at home to help children make the most of their new social environment? Now that your children are learning skills that enable them to be more independent and "do it themselves," how can parents support these budding desires at home? Are there ways parents can create a more cohesive and peaceful partnership with their children? Don't miss this opportunity to hear our Toddler Teachers address these topics and answer your questions!