News
News
At Springmont, we're proud of our school and like share the accomplishments of our students, alumni, faculty and staff. Here you'll find information about Springmont including recent school news, articles about our curriculum and other interesting items. For additional press or media information, please contact Julie Strickland
jstrickland@springmont.com
or 404.252.3910.
Meet Toddler Teacher Toshia Johnson
November 09, 2020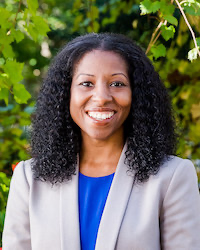 What led you to become a Montessori Teacher, and how long have you been at Springmont? I began my career path studying Political Science with the idea of changing the world for the better. But when I worked at my first Montessori school as a Teacher Assistant, I realized my responsibility was to change the world one little person at a time. I fell in love with Montessori's method of educating young children and decided to get my Infant/Toddler Montessori training. Although I've been working in Montessori education since 2002, this is my first year teaching at the wonderful Springmont School and I'm super excited!
Do you have a favorite area of the classroom? Is there a particular lesson you like to give to new students and why? My most favorite area is Practical life. It never ceases to amaze me when I witness young children independently preparing food, baking, dressing themselves, cleaning the environment, or caring for each other. I love how the tools and materials are specially designed to fit their small hands allowing them to be successful as they work to master each lesson. I like to give new students lessons on food preparation because it is delightful to see the smiles on their little faces as they eat delicious bananas they sliced all by themselves. The purposeful activities in the Practical Life area help young children develop fine and gross motor control, independence, confidence, and a sense of responsibility.
What is a special interest you bring to the classroom? I bring a love and appreciation for music! I also bring my ukulele which the toddlers request I play every day. Music is a universal language loved by children and adults around the world. Music and movement provide children ways to express their unique selves. Toddlers love to dance, sing, and make music. I try to extend their repertoire beyond "Twinkle Twinkle Little Star" to singing "Rain Drops Keep Falling On My Head". Music is a great way to develop a rich language environment including dialogue.
"In the same way it is important to be in a language environment to learn spoken language, we can create and provide a musical environment for the children where they absorb the words of songs, the rhythms, and the appreciation for playing musical instruments." - Judi Orion, Montessori Trainer