News
News
At Springmont, we're proud of our school and like share the accomplishments of our students, alumni, faculty and staff. Here you'll find information about Springmont including recent school news, articles about our curriculum and other interesting items. For additional press or media information, please contact Julie Strickland
jstrickland@springmont.com
or 404.252.3910.
Meet Middle School Teacher Sam Newman
January 11, 2021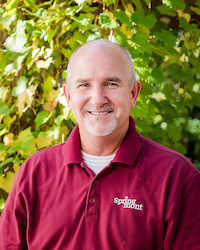 What do you wish people knew about Montessori or your classroom? I wish people realized that Montessori students are prepared both academically and practically for the intricacies of everyday life. Montessori students utilize advanced materials like the Pink Tower and Racks and Tubes, but they also know how to sneeze into their arms and tie their own shoes. They might study a pin map intensely but are also naturally curious about the language of the people where the pin is located. Ultimately, Montessori students are prepared for a full life, not just an academic one.
What one thing distinguishes your teaching style? I believe (and have been told) that I display a passion for learning that is demonstrated through my engagement with the subject AND with those students who are studying that subject. I try to reflect the approach of a life-long learner. Adolescents, the group I currently teach, need to SEE qualities and attributes, not just be told about them. If we want students to be curious, we need to model that curiosity.
What is a special interest you bring into the classroom? I bring a life-long pursuit of special interests. I have brokered and appraised diamonds in New York. I have been scuba diving on the Great Barrier Reef and skydiving on four different continents. I taught martial arts for 36 years. I never plan to stop finding special interests. My latest interest is in competitive knife throwing, and I plan on competing in the World Championship in Germany in the summer of 2021. Life is too short to stop finding new interests!