News
News
At Springmont, we're proud of our school and like share the accomplishments of our students, alumni, faculty and staff. Here you'll find information about Springmont including recent school news, articles about our curriculum and other interesting items. For additional press or media information, please contact Julie Strickland
jstrickland@springmont.com
or 404.252.3910.
Mark your calendars now for the 1st event of 2019!
December 17, 2018
By Lauren Stevenson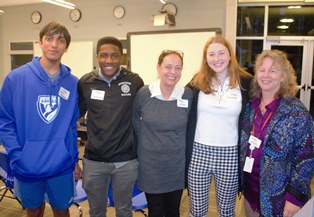 The 2019 Springmont Alumni Panel is Thursday, January 10. Don't miss this chance to ask former Springmont students about their Springmont experience and how it serves them as young adults. The event will start at 6:00 p.m. with a brief mix & mingle, and the panel will begin at 6:30 p.m. Students in Upper Elementary and Middle School are invited as are parents of students at all levels. Kindly RSVP and feel free to submit your questions in advance!
Follow Us on Facebook!
---
Springmont School.
1 day ago
---
Springmont School.
5 days ago
Photos from Springmont School.'s post
Make sure to check today's Thursday folder for information about supporting SST (Save the Sea Turtles), a group of Upper Elementary students selling handpainted t-shirts and accepting donations to fund increased awareness of the plight of sea turtles. Organic, student-led efforts like this one are hallmarks of our globally-aware and engaged students. Will you help?
---