News
News
At Springmont, we're proud of our school and like share the accomplishments of our students, alumni, faculty and staff. Here you'll find information about Springmont including recent school news, articles about our curriculum and other interesting items. For additional press or media information, please contact Julie Strickland
jstrickland@springmont.com
or 404.252.3910.
#KeepingSpringmontSafe
August 30, 2021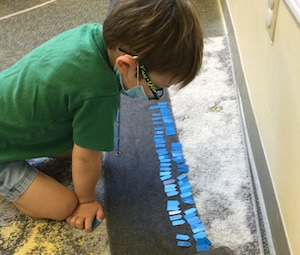 As noted in Head of School Megan Hakerem's Aug 26 Update, the COVID-19 pandemic has made a significant impact on our lives and continues to test our resilience and disrupt our sense of normalcy. Because vaccines for those 12 and under are not yet available and the metro area is experiencing high levels of community spread, most Springmont students remain vulnerable to serious infection.
In light of last week's events on campus and in keeping with our core value of Mutual Respect, we ask for your continued vigilance and partnership as we strive to keep the Springmont community safe and our classrooms open. We continue to rely on masking, physical distancing, enhanced air filtration, and routine cleaning to mitigate the impact of possible COVID exposures on campus. We ask all members of our school community to continue to mask in public, regardless of your vaccination status, and limit your family's opportunities for exposure. In addition, thoughtful completion of the Daily Health Screener helps to ensure individuals with possible or known exposures do not expose others within our community.
To make sure that we have a complete picture of the health and wellness of our school community, we will be updating our Daily Health Screener questions. Effective tomorrow, August 31, questions will include the following:
Has anyone in your household had any COVID-19 symptoms in the past 10 days? (Symptoms include fever or chills, cough, sore throat, shortness of breath or trouble breathing, severe or unusual headache, fatigue, new loss of taste or smell, diarrhea, nausea or vomiting, and unexpected muscle or body aches.)
Has your child been absent from school due to illness in the last 10 days?
Has anyone in your household been in close contact with anyone who has tested positive, has symptoms, or suspects he/she may have COVID-19 in the last 10 days?
Does anyone in your household have any reason to believe they have COVID-19 or been potentially exposed to COVID-19 in the last 10 days?

Please make sure to read all questions carefully and answer them thoughtfully each day.
As we have experienced, COVID-19 can present with seemingly benign or common cold symptoms in children. Therefore, we ask for your continued patience and understanding if you are asked to pick up your children, keep your children home, or have them PCR tested. We recognize this is an inconvenience to you and your family, but it is in the best interest of our entire community.