News
News
At Springmont, we're proud of our school and like share the accomplishments of our students, alumni, faculty and staff. Here you'll find information about Springmont including recent school news, articles about our curriculum and other interesting items. For additional press or media information, please contact Julie Strickland
jstrickland@springmont.com
or 404.252.3910.
Have You Made Your Gift or Pledge to the Springmont Fund?
November 01, 2021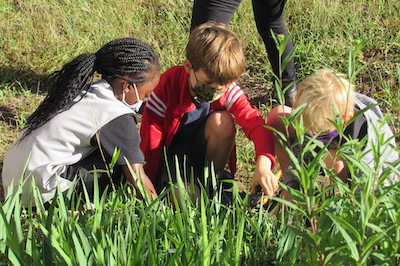 Maria Montessori recognized how important it is for children to spend time learning outdoors. She wrote, "There must be provision for the child to have contact with nature; to understand and appreciate the order, the harmony and the beauty in Nature….so the children may better understand and participate in the marvelous things which civilization creates."

We have incorporated her vision into the daily Springmont student experience through our class and community gardens, appreciation and care of the animals, and thoughtfully designed outdoor playspaces. It is our hope that these Outdoor Learning experiences begin to help students understand their place in the larger world, foster a sense of responsibility for being a good steward of the environment, and create opportunities to build community. This year's Springmont Fund will benefit enhancements to our Outdoor Learning environments. A gift or pledge of any size will help support this vital component of your child's Montessori education.
Please click here to contribute to this year's Springmont Fund. Our goal is 100% parent participation. Please help us reach this goal with a gift or pledge of any size!