News
News
At Springmont, we're proud of our school and like share the accomplishments of our students, alumni, faculty and staff. Here you'll find information about Springmont including recent school news, articles about our curriculum and other interesting items. For additional press or media information, please contact Julie Strickland
jstrickland@springmont.com
or 404.252.3910.
Fantastic Field Day!
May 18, 2020
By Julie Strickland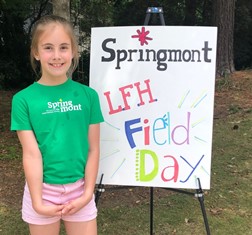 Our school community's response to our virtual Field Day on Friday was absolutely amazing! Thank you, parents, for sending so many wonderful pictures and videos. Our students' enthusiasm and energy are contagious - in a good way! Thanks to PE Teacher Tiffany Orem for her creativity and hard work and to our families for making the best of a trying situation! Look for more pictures on Facebook!
Follow Us on Facebook!
---
Springmont School.
today
It's wonderful to have our teachers and assistants back on campus! In addition to getting classrooms ready for families to visit campus for our Meet & Greet on Friday, faculty and staff have spent time building community, sharing expertise, and reviewing procedures that will make 2021-22 a safe, happy, and meaningful experience for our students!
---
Springmont School.
1 month ago
We're so proud of alum Catherine Friedline who was recently featured in the AJC for designing Troop Hope, a Scouting program for girls undergoing long-term medical treatments. Catherine is a true embodiment of Springmont's core values - her Creativity and Global Awareness were outdone only by her 3-year-long Gift of Time! This project helped Catherine earn her Gold Award, the highest achievement in Girl Scouting which is completed by only 6% of Scouts, and the Scouts' highest honor as "Woman of Distinction." Way to go, Catherine!
---