News
News
At Springmont, we're proud of our school and like share the accomplishments of our students, alumni, faculty and staff. Here you'll find information about Springmont including recent school news, articles about our curriculum and other interesting items. For additional press or media information, please contact Julie Strickland
jstrickland@springmont.com
or 404.252.3910.
Ask a Division Head: How does Montessori deal with STEM learning?
February 03, 2020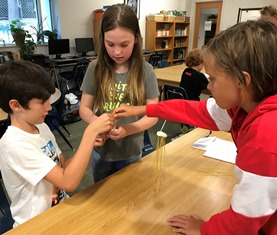 While many of us grew up during an educational era focused on the 3 R's - Reading, wRiting, and aRithmetic, the buzzword we hear most often today is STEM (Science, Technology, Engineering and Mathematics).
The STEM movement began with an 1862 act of Congress that set aside land for creating universities. While most institutions were focused on agriculture, the Industrial Revolution pushed the educational world into fostering advancements in engineering and technology. After World War II, countries that had already embraced engineering and technology education had distinct advantages. The last straw for the United States was the Soviet's launch of Sputnik; the ensuing space race and the creation of NASA caused STEM initiatives to become a dominant educational push. Initially, STEM subjects were taught in silos, but simply adding a technology and engineering class to the existing curriculum was discovered to be ineffective, leading traditional educational models to look for other ways to apply STEM concepts.
Maria Montessori was not only looking at alternative ways to educate children in general, but also at ways to incorporate these new subjects. She believed children need to adapt to their time and place and developed her method to seamlessly and naturally include STREAM (STEM plus Reading and the Arts). This means that in a Montessori classroom, no subject is learned in isolation. Children are taught to sort and categorize knowledge and encouraged to develop curiosity about the world. Then, they are guided to find answers to their curiosities. Montessori naturally develops a STEM mindset, one in which children see the world as interrelated; knowledge gained in one area is seamlessly applied to other areas. Math, Science and Technology aren't taught in isolation; instead, they are interwoven and intertwined so that students come to understand all aspects of a concept simultaneously and develop an ability to look at the world through a problem-solving eye.
Ironically, as traditional educational models rethink their STEM programs, they have begun to include opportunities for students to use technology and engineering to solve "real-life" problems in math and science classes. These opportunities have long been completely ingrained in the life of a Montessori student, and your child is empowered to be a problem-solver every day. Innovation and collaboration are organically nurtured, not squeezed in between other lessons. The hands-on learning and independent discovery that Springmont's Montessori environment fosters are well aligned not only with the goals of STEM education but also with Reading and the Arts, rounding out a comprehensive STREAM curriculum. In short, Montessori is the original STEM and STREAM learning environment.